Using your phone to record your interviews is easy – mobile phones aren't just for dictating
Using your phone to record your dictations, interviews and focus groups is easy.  After recording, just upload the audio files to your secure Sterling client account, via your mobile phone Chrome browser, ready for transcription.  It's that simple.
Back in the day, uploading from a mobile phone was clunky, awkward, expensive and time-consuming.  Which recording app being used often determined whether there was a "direct upload" option within the app, all controlled by the individual app developer.  No option for direct upload meant a complicated process involving getting the audio files from the mobile device to the secure client account login.
Compounding this was the huge variety, variability and functionality of many recording apps (including professional dictation apps).  Some mobile phones internal microphones simply didn't cut it, and audio quality and therefore transcripts suffered as a result.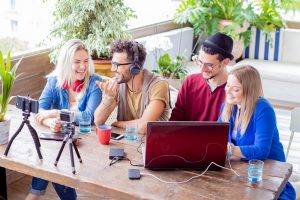 I'm glad to report that those days are long gone.  Most contemporary mobile phones are exceptionally well-equipped with both superior internal microphones and camera and video ability.
And long gone also are the days of needing a third-party professional recording app installed on your mobile phone, to record good quality audio.  Almost all contemporary mobile phones come with:
a built-in recorder app which fully utilises the excellent quality internal microphones,
ability to record in .m4a format,
a record/pause function, and
ability to change the audio file name.
What's more, most mobile phones, even iPhones, enable installation of Google Chrome browser.  Google Chrome browser works best with Sterling's client portal because the portal is optimised for Chrome browser use.  This is why we recommend using Chrome when uploading files to your secure client account.
I'm using my phone to record – how do I upload to my secure Sterling online account?
It's easy. 
Using Google Chrome, enter the following: https://www.sterlingtranscription.co.uk
Click on the 3 dots at the top right of your screen and select 'Add to Home Screen'. This will create a shortcut app on your mobile's home screen.
Arrange your Voice Recorder App and the Sterling shortcut beside each other on your mobile.
Using your phone record your audio file(s) via your recorder app, click on the Sterling app, and enter your username and password.
Select upload new audio.
Scroll down to select files, then files.
Click 'audio' (options are images, audio, videos etc).
Upload.
Done!
It is really that simple.  If you find yourself stuck and need to conduct a recording quickly, just use your mobile phone and upload the completed audio files to your secure client account via the Chrome browser installed on your mobile phone.  You can't get much easier than that!
If you would like to find out more about Sterling's suite of transcription services, or anything else to do with dictation and transcription, contact us for help and advice today.