Working From Home – Everyone's Doing It!
Working from home has never been more critical to the physical, emotional, social and economic wellbeing of every family in the UK.
During the last six months, we've all learned to reframe, reposition and reassess our circumstances.  We've had to. We've tried educating our children from home, working remotely with our employers, and managing our relationships with our family and friends – all from the confines of our homes.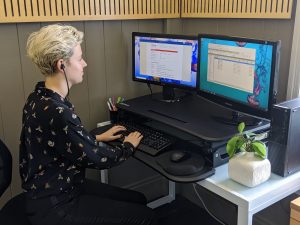 As we settle into the second lockdown, many people are exploring new opportunities for working from home.  Key factors people are looking for in work from home arrangements include more flexibility around work schedules, a regular income, and a high degree of variety and interest in the daily workflow.
Becoming a typing contractor with Sterling Transcription is one option worth considering.
Working from home as a typing contractor with Sterling Transcription gives you:
Flexibility
Juggling work and family life can sometimes be tricky.  Working for yourself as a typing contractor means you can choose when and for how long you work, each day.  You are your own boss.
Variety
Some of our typing contractors relish the opportunity to type a highly academic research file one hour and then switch to typing a fascinating financial rapid#, the next hour.  This is just one of a myriad of work examples.  A high degree of variety in the type, length and content of files you type is part of the job of being a typing contractor.
Tailored Environment
During the first lockdown, many of you would already have discovered the positive benefits of not being constantly interrupted by work colleagues on matters sometimes outside your scope, or influence.  Productivity positively skyrocketed for some.  Working from home means you choose where you work, in an environment that suits you, and in clothes that work for you.
Embrace the elasticised waistband, exercise when it suits you, and liberate your productivity.  Keep the car at home and set up your home workspace so it suits you.  All this is possible when you work as a typing contractor with Sterling Transcription.
Of course, there are a few prerequisites which you need to consider before becoming a typing contractor.  You need to be able to type, have a flair for detail and nuance, have a comfortable and ergonomically correct workspace at home, and enjoy learning new things every day.
Working from home as a typing contractor with Sterling Transcription may be the career change you're looking for.  For more information on becoming a typing contractor with Sterling Transcription, and to submit your online application, visit our Careers page.
(#Note: A financial "rapid" describes the process of producing a transcript of an important financial event inside an extremely tight deadline, usually within one to two hours of the event.  Typing contractors typically produce detailed financial transcripts which have been verified against information provided to the stock exchange by the publicly listed company.  Typing financial rapids requires exceptional attention to detail, an acute understanding of tight time constraints, and a healthy appreciation of adrenalin.)