When Strict Verbatim Matters
Strict verbatim is requested by research clients, such as market researchers and linguistics professionals, who are undertaking specific types of qualitative analysis of transcripts.
While 95% of Sterling Transcription's research clients request intelligent verbatim style, there is a small number who require strict verbatim style. This article explores what strict verbatim style is, and when to use it.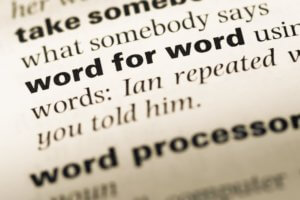 What is Strict Verbatim?
Strict verbatim, also referred to as true verbatim, full verbatim, or orthographic transcription, is an exact and precise transcription of the spoken word – exactly how it is heard, and word-for-word. A strict verbatim transcription includes every word, sound and utterance that is recorded; including pauses, coughs, laughter and any filler words, such as "um".
When is Strict Verbatim used?
While not all transcripts require (true) strict verbatim transcription, there are a number of research areas where strict verbatim is essential. We find that most requests for strict verbatim style come from researchers in the linguistics and market research fields.
What is the difference between Intelligent Verbatim and Strict Verbatim?
Intelligent verbatim involves slight editing, for ease of reading, whereas strict verbatim includes all those um's, ah's, and other sounds, such as coughing, laughter and sighs, which we all utter, when we are speaking frankly and freely.
Why is it so critical that strict verbatim is as accurate and precise as possible?
It is through the analysis of strict verbatim style transcripts that researchers are able to glean greater meaning from the conversation, deepening their understandings of both the interview content and the interviewee's intentions and mannerisms and meanings, identified through the words spoken and other utterances. In short, strict verbatim captures how something is said, not just what is said.
Why is there a higher charge for strict verbatim?
One sentence transcribed in strict verbatim style may include far more words than those spoken. A 15-minute interview between two speakers will take much longer to transcribe in strict verbatim style than if it was transcribed in intelligent verbatim style. The transcript will also be much longer and more complex and time-consuming to produce than its counterpart. This is why the request for strict verbatim style attracts a higher charge.
What does a strict verbatim transcript look like?
As with intelligent verbatim, there is a new line at each speaker's turn. A strict verbatim transcript has all those extra words, as described above, which enhance the researcher's understanding of how and what was said.
Facilitator: Hi, I am the facilitator. I have a female voice. I requested, um, strict verbatim – yeah, strict verbatim style for all of my interviews.
Interviewee: Um, I'm the interviewee. I have, like, a male voice – I introduce myself as Ymir. Yeah. No instructions were given to use my name, so…
Facilitator: I'm asking my first question.
Interviewee: Ah, I'm responding – like, giving a response to the first question. [Pause] I'm thinking of an example.
Facilitator: Mm-hm.
Interviewee: I'm talking about…
Facilitator: Talking about a few examples?
Interviewee: Yeah, just a few – a couple of examples…
More details on what a strict verbatim transcript may include:
Filler speech – all those "ums" and "ahs" are captured each time they are uttered,
Word repetition – if the interviewee says it, it is recorded, even if they repeat themselves,
Repetitive use of idiosyncratic words and retention of grammatically incorrect phrases, such as "like", "kinda like", "actually", "sorta", "well-", "fair", "gonna", etc.
Stutters,
False starts and redirects,
Run-on sentences,
Other speaker interjections, such as "yeah right", "mm-hmm", "no", "ahah", etc., and
Non-speech sounds, such as coughs, laughs, clearing of the throat, etc.
If you are about to conduct linguistic analysis on your interviews, consider strict verbatim style for a deeper understanding of not just what was said, but how it was said.
For further queries regarding strict verbatim style, contact Sterling Transcription today.